Invisible "Yarns" are
the strongest ties. by Nietzsche
SCROLL
History of Yarn
/ History of Maruito
Our company, Maruito, was founded as a "yarn business" in 1950. It was a time when the aftermath of the post-war turmoil still lingered. Fueled by our venturing spirit and vitality, our yarn business saw us through the early post-war years. As the times changed and a period of sharp economic growth began, we kept up with the flow and expanded, establishing the foundations of the company we are today. When the Japanese economy entered a period of stable growth in the 1980s, we launched full-scale into doing business directly with overseas clients. We remained dedicated to our main business even during the bubble era, and when the bubble burst in 1991, we adapted to the changes like a chameleon, accurately grasping how the times were changing. The post-war chaos, the steep economic growth, the stable growth, the bubble era, and its aftermath: in every period, we conducted ourselves in a manner the market would esteem. This is how we became what we are today.
In recent years, fiber materials for automotive vehicles interiors have been doing well. In particular, they have expanded to occupy almost 70 percent of the sewing yarn market in japan. In fact, besides our sewing yarns, other products we make are also being used in places that people do usually see. Many finished-car manufacturers use them in their interior spaces.
People value our company's existence for products we make besides ones for automotive vehicles. Examples include bedding goods such as mattresses and mattress pads, lace materials for ladies' outer garments and inner-garment foundations, and various kinds of handicraft threads for hand knitting. We sell products to a broad range of industries: materials for interiors, fiber materials for home electrical appliances and environmental uses, and more. We are expanding our business not only in Japan, but also to include China and Vietnam.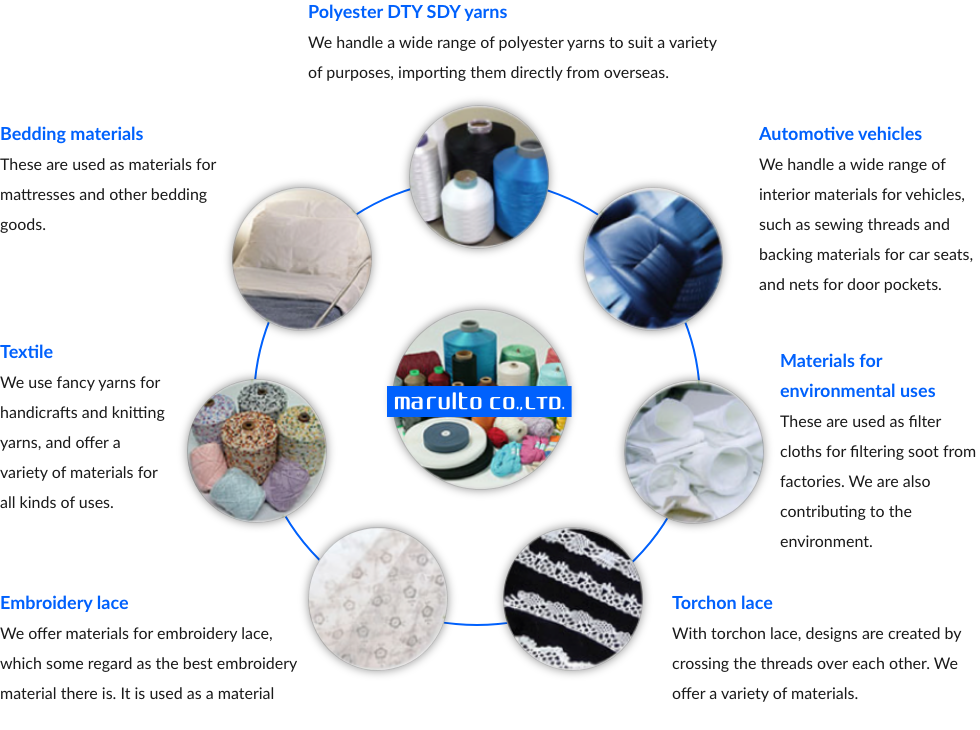 Polyester DTY SDY yarns

We handle a wide range of polyester yarns to suit a variety of purposes, importing them directly from overseas.

Bedding materials

These are used as materials for mattresses and other bedding goods.

Textile

We use fancy yarns for handicrafts and knitting yarns, and offer a variety of materials for all kinds of uses.

Embroidery lace

We offer materials for embroidery lace, which some regard as the best embroidery material there is. It is used as a material for foundation garments.

Torchon lace

With torchon lace, designs are created by crossing the threads over each other. We offer a variety of materials.

Materials for environmental uses

These are used as filter cloths for filtering soot from factories. We are also contributing to the environment.

Automotive vehicles

We handle a wide range of interior materials for vehicles, such as sewing threads and backing materials for car seats, and nets for door pockets.
Company Profile
Company Name

Maruito Co.,Ltd.
Head Office

6-30,Nishiki 1-chome,Naka-ku,Nagoya 460-0003 Japan
Tel +81-52-211-1698
Fax +81-52-211-2672
English web site: http://www.maruito.net/event
Japanese web site: http://www.maruito.net
Establish

1950, May 24th
Capital

JPY31,104,000
President and CEO

Hiroki Ishiguro
Bank

Mizuho Bank,Mitsubushi UFJ Bank, Sumitomo Mitsui Bank, Chukyo Bank
History details
1950

Established in Naka-ku, Nagoya City, with capital of 1 million yen
1969

Opening Ichimiya sales office
1971

New office building relocated to the
current location
1974

Opening Aichikaga sales office
1981

Opening Fukui Sales office
1986

Head office extension
1994

Opening Kanazawa Sales office
1999

Established Santoru Co., Ltd.
Established Marutsu Co., Ltd.
2000

Established Maruta Co.,Ltd.
2003

ISO9001:2000 certificate
2004

Established Shanghai Maruito Fiber
Products Co.,Ltd
2005

ISO14001 certificate
2009

Grouped Isobe finshing & Dyeing Co., Ltd.
2010

ISO9001:2008 certificate
2014

Established Shaoxing Maruito Fiber Products Co.,Ltd.
2015

Established HaNoi Maruito Co., Ltd.
2018

ISO9001:2015 certificate scope :
Automotive
vehicles business at head office and ashikaga office.

ISO14001:2015 certificate scope site: head office
Affiliated Company
(wholly owned subsidiary)
Marutsu Co.,Ltd.

3-19—4 Marunouchi,Naka-ku, Nagoya-city, Aichi Pref, 460-0002, Japan

TEL : 052-957-4551

FAX : 052-957-4550

Isobe finshing and dying Co.,Ltd.

4-11-8 ,Ise-cho, Ashikaga-city,Tochigi Pref, 326-0053, Japan

TEL : 0284-41-2545

FAX : 0284-42-0488

Shaoxing Maruito Fiber Products Co., Ltd.

27 E,South road, Paojiangyue, Shaoxing-city, Zhejiang ,China

TEL : +86-575-8821-1950

Maruta Co.,Ltd.

32 Goura, Mabiki, Yamato-cho, Ishimiya-city, Aichi Pref, 491-0931, Japan

TEL : 0586-47-6665

FAX : 0586-43-5558

Shanghai Maruito Fiber Products Co., Ltd.

No.1005 Group1,Xinjinfeng,Langxia town, Jinshan District Shanghai, 201516, China

TEL : +86-21-5739-3039, -3040

FAX : +86-21-5739-3036

HaNoi Maruito Co.,Ltd.

Dong VanⅡIndustrial Zone, Duy Tien Dist., Ha Nam Province, Vietnam

TEL : +84(226)3585891,3585892

FAX : +84(226)3585890
Contact
Please use below form for inquiries regarding our products, or this website.
*Required